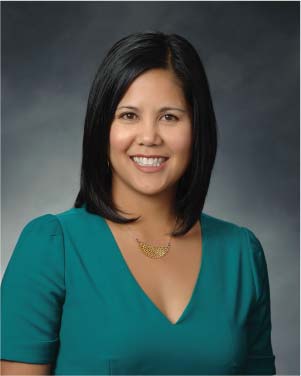 Leilani Aguinaldo, Director, Governmental Relations, brings almost 20 years of diverse public policy experience to SSC. Prior to joining SSC, Leilani was appointed by Governor Jerry Brown to serve as the Director of Policy and Legislation at the State Board of Education. Leilani helped develop the state's groundbreaking new accountability system, which includes the California Schools Dashboard, technical assistance via the Systems of Support, the federal Every Student Succeeds Act State Plan, and continued Local Control Funding Formula implementation. As a part of the Governor's administration, Leilani also worked on K-12 education legislation and state budget items and served as a liaison with the California Department of Education, the Commission on Teacher Credentialing, and the California Collaborative for Educational Excellence. 
In addition to state service, Leilani served as a senior advisor to the Superintendent and Board of Education for the Los Angeles Unified School District where she was the Director of Government Relations. Leilani represented the state's largest school district in matters at the federal, state, and local level. 
Within K-12 education, Leilani has delved into a wide array of policy issues such as special education, English learner students, adult education, and transitional kindergarten. Leilani also spent time as an independent education consultant, and, as such, she developed successful advocacy strategies for her clients specific to the districts of choice program and school district developer fees.
In addition to her expertise working on education issues, Leilani has an extensive background on a broad spectrum of policy issues from her time as an advocate working on issues including civil rights, public safety, consumer protection, animal welfare, energy, and health and human services. Leilani's public policy credentials also include service as Legislative Director for a state assembly member.
With this rich background, Leilani provides strategic advice to clients to advance legislative, budget, and regulatory priorities, and informs clients about developments in Sacramento that will impact client interests. Leilani graduated from the University of California, Berkeley, with a Bachelor of Arts in Economics.