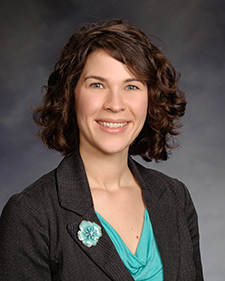 Michelle McKay Underwood, Vice President, has been with School Services of California Inc. (SSC) since 2006 and provides legislative advocacy services on behalf of SSC clients by representing their interests in front of the Legislature, Administration, and various state departments in Sacramento. She is actively involved in advocating on behalf of school districts and associations, including serving as the lead advocate for the California School Funding Coalition, the Coalition for Adequate Funding for Special Education, Schools For Sound Finance [(SF)2], and the Association of California Community College Administrators (ACCCA).
In 2014–15, Michelle led an effort to resolve the California State Teachers' Retirement System (CalSTRS) membership eligibility issues for community college administrators in collaboration with CalSTRS and other statewide K–12 and community college associations. Over two State Budget cycles, the Coalition for Adequate Funding for Special Education succeeded in securing nearly $700 million in ongoing special education equity funding. Other advocacy efforts focused on securing minimum state aid for community-funded school districts through the largest education finance reform in decades and fending off an attack on school district property taxes to fund a tax break for heavy equipment rental companies. 
Michelle also provides timely information to the field on important events in Sacramento by serving as editor of the Community College Update and the Fiscal Report. She is a sought-after presenter for groups ranging from human resources associations to chief business officials.
Prior to joining SSC, Michelle served as Membership Director for the California Coalition for Youth, an advocacy association of a diverse group of youth, youth advocates, and youth-serving agencies from throughout the state. Michelle received a Bachelor of Political Science and Psychology from the University of California, Davis.