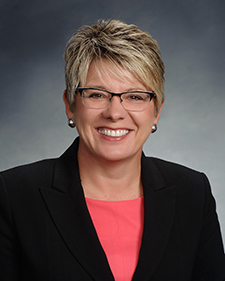 Suzanne Speck, Vice President, provides support to school districts, county offices, and community college districts in governance, management, collective bargaining, employer?employee relations, human resources, special education, and general consulting. As Vice President, Suzanne is responsible for leadership of SSC's executive search services and brings a wealth of experience in the area of employment, personnel management, strategic planning, and organizational development.
Before joining SSC in 2009, she served school districts in California for more than 20 years as a special education teacher, principal, and Assistant Superintendent of Human Resources. Suzanne has extensive experience in collective bargaining, alternative dispute resolution, and organizational development. She presents and provides training statewide on interest-based and fair-share bargaining, human resources, school district operations, employee benefits and leave administration, and the Local Control and Accountability Plan. She has served on the Fiscal Crisis & Management Assistance Team (FCMAT) for human resources in South Monterey Joint Union High School District, Compton Community College District, and Inglewood Unified School District. Suzanne's consulting experience outside of California includes a review of the Hawaii Department of Education, Special Education Division and an organizational study of the Nevada Department of Education.
Suzanne is an experienced workplace investigator and expert in the area of accommodation planning. She has received advanced training in the area of facilitation and has extensive experience leading large and small groups, on various topics, including strategic planning, special education allocation plan development, budget advisory committees, and health benefit committees. As a seasoned and skillful facilitator, she is often asked to lead governance teams in the evaluation of superintendents, to mediate conflicts between individual employees and/or groups of employees, and to assist local educational agencies in building more collaborative labor relations.
Prior to joining SSC, Suzanne was the Assistant Superintendent, Human Resources, in the Travis Unified School District. Her prior positions, including Director of Personnel for the Vallejo City Unified School District and Special Education Principal for the Solano County Office of Education, make her a valuable resource for educators in California. Suzanne holds a bachelor's degree in Special Education and Early Childhood Education from Radford University, Radford, Virginia. She received two credentials and her master's degree in Education Administration from California State University, Sacramento.