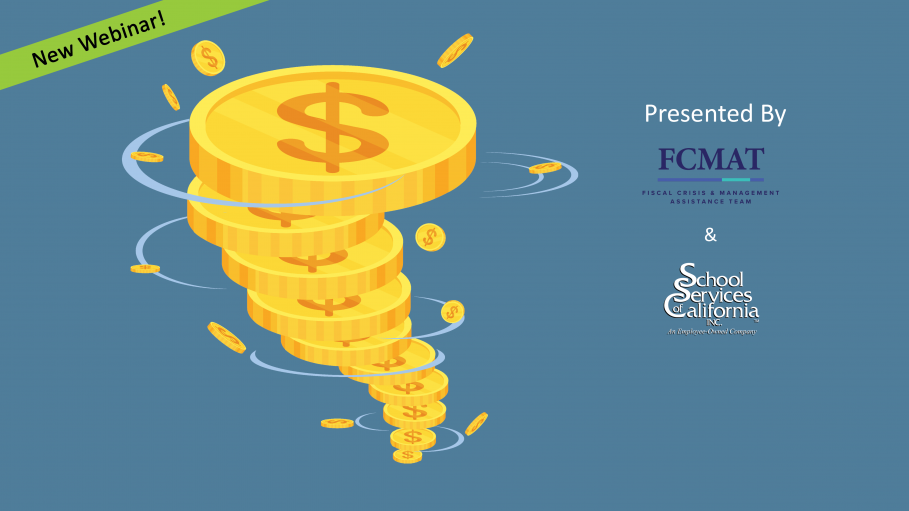 Costs and times
SSC Clients: $245.00 per attendee
Non-clients: $490.00 per attendee

Program Begins: 9:00 AM
Program Ends: 10:30 AM

ABOUT THE WEBINAR
Once again, California has made its budget and cash problem your problem! While California's economy is experiencing a recession due in large part to the COVID-19 pandemic and subsequent shut down of businesses, billions of dollars in deferrals layered upon school districts, charter schools, and county offices of education will make it challenging to manage cash flow. 
This webinar will provide methods to improve daily ongoing management of cash, forecast cash flow, prepare to borrow cash when needed, and practical examples for improving and implementing cash flow models. This webinar will also provide local educational agencies with the tools they need in another year that is far from normal to evaluate and analyze current cash needs and improve practices to meet those needs. This webinar is being cosponsored by the Fiscal Crisis and Management Assistance Team (FCMAT) and includes a tutorial on the use of FCMAT's Projection-Pro cash flow tool.
Please join us in finding ways to better manage cash and to be prepared for the upcoming cash deferrals! 
WHO SHOULD ATTEND:
District, charter school, and county office administrators, as well as technical staff responsible for budget monitoring and cash flow management. 
Dates and Times:
Part 1: September 29, 2020, 9:00 a.m.–10:30 a.m.
Part 2: October 1, 2020, 9:00 a.m.–10:30 a.m.
Fee Includes Both Webinars
WEBINAR TOPICS
Provisions of the State Budget and legislation that impact school district cash flow, along with the schedule for deferrals
What is cash flow? We will address concepts and standards, the difference between cash and budget, and analyze cash as a portion of reserves
Strategies for cash analysis—tools and processes that can be used to develop strong cash flow models
Effective cash management—reviewing and interpreting cash projections for management decision making
Cash borrowing options and how to prepare for them
Tips and highlights of how to use FCMAT's Projection-Pro cash flow tool
Cash is king—what happens when you run out of cash?

 
Location Details
DETAILS FOR THIS LOCATION
SSC Clients: $245.00 per attendee
Non-clients: $490.00 per attendee

Program Begins: 9:00 AM
Program Ends: 10:30 AM