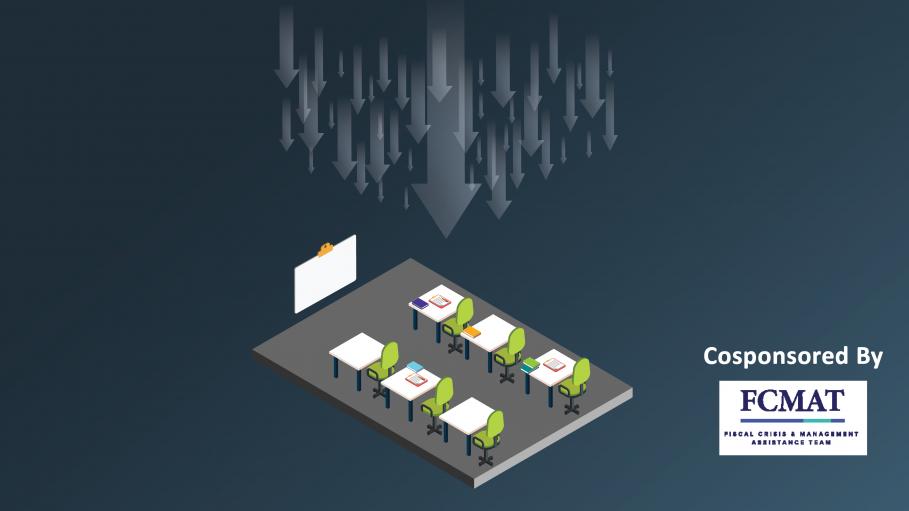 Costs and times
SSC Clients: $245.00 per attendee
Non-clients: $490.00 per attendee

Program Begins: 9:00 AM
Program Ends: 10:30 AM

About the Webinar
Statewide enrollment trends have been on a slow decline; however, the drop from 2019–20 to 2020–21 was by far the largest drop ever at -2.60% in the statewide student population. Zero population growth in 2020 and demographic projections suggest that student enrollment will endure a long period of decline, resulting in a nearly 11.4% fall by 2030–31. While the long-term picture suggests a steady decline, a perfect storm is brewing in the near future, specifically for the next fiscal year, 2022–23. The continued loss of students for many local educational agencies (LEAs), combined with the sunset of the attendance hold harmless provision as part of the COVID-19 response, will lead to a steep cliff that LEAs will need to navigate.
Some LEAs are also challenged with managing and allocating one-time COVID-19 resources to address staffing, instructional, and facility needs. Future uncertainty requires consideration of long-term enrollment trends, and a strategic planning process to align staffing and expenditures to avoid overstaffing.
Experts from the Fiscal Crisis and Management Assistance Team (FCMAT) and School Services of California Inc. (SSC) have teamed up to present this webinar. Presenters will identify the many ways that declining enrollment impacts LEA operations, staffing needs, and strategies for addressing these challenges through reducing personnel and other expenditures, along with resources for making management decisions.
Who Should Attend?
This webinar is intended for superintendents, and all members of an LEA's cabinet, as well as support staff directly involved with fiscal responsibility, employee management, instructional design, and facilities.
Dates and Times:
Part 1: October 12, 2021, 9:00 a.m.–10:30 a.m.
Part 2: October 14, 2021, 9:00 a.m.–10:30 a.m.
Fee Includes Both Webinars
Webinar Topics
Defining the problem—an examination of enrollment and population trends—including  the impacts of the COVID-19 pandemic
Financial impact of decline—impacts on the Local Control Funding Formula and other revenue sources
Impacts on facilities, educational programs, special student populations, and support services 
Enrollment projections, analysis, and best practices
Staffing practices for responding to fluctuations in enrollment
Evaluation of personnel services during times of uncertainty 
Bargaining strategies to reduce personnel expenditures
Implementing a multiyear plan to address change
 
Location Details
DETAILS FOR THIS LOCATION
SSC Clients: $245.00 per attendee
Non-clients: $490.00 per attendee

Program Begins: 9:00 AM
Program Ends: 10:30 AM