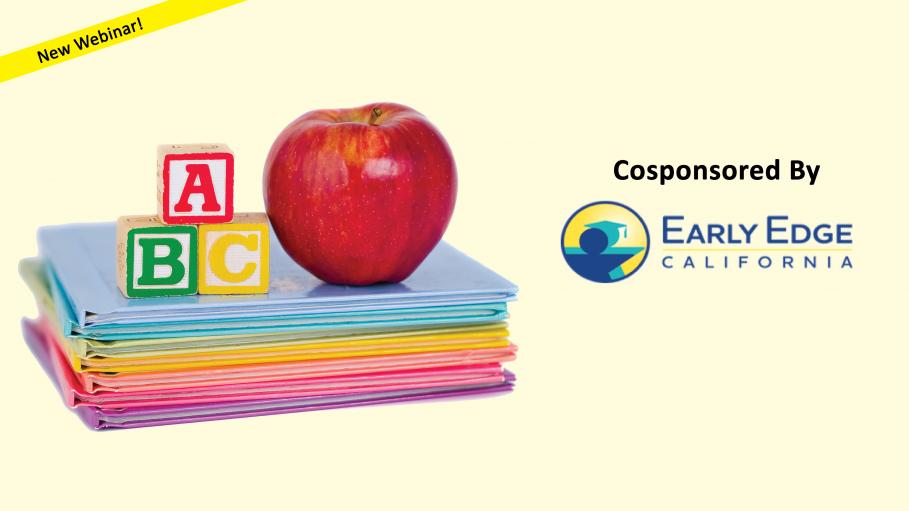 Costs and times
SSC Clients: $195.00 per attendee
Non-clients: $390.00 per attendee

Program Begins: 9:00 AM
Program Ends: 11:00 AM

About the Webinar
Among the many things local educational agencies (LEAs) must do in the 2021–22 school year is to prepare to expand their transitional kindergarten (TK) programs beginning in 2022–23 with the requirement to offer TK to all four-year-olds by the 2025–26 school year. This requires a deep look at and evaluation of existing and potential resources across an array of areas, including human resources, funding, and facilities, to develop the most effective and efficient implementation plan.
The time to plan for universal TK implementation is now. The complicated and multiphase planning process requires synchronized coordination from all members of an LEA's cabinet as well as support staff directly involved in the TK programming—including fiscal, school facilities, and human resources management. Presenters will cover each operational area, along with resource opportunities, and strategies and best practices for implementation, including the impacts of negotiable decisions.
School Services of California Inc. is teaming up with Early Edge California to provide this timely webinar.  Presenters bring a diverse background in school finance, human resources, and legislation and policy, and have teamed up to provide this webinar through a multi-perspective lens.
Who Should Attend?
This webinar is intended for superintendents, cabinet members, and any operational and instructional staff tasked with developing and implementing strategies for expanding TK with the goal of achieving universal TK by the 2025–26 school year.
Learn more about the webinar's sponsor by visiting the Early Edge California
website
.  

Date and Time:
November 9, 2021, 9:00 a.m.–11:00 a.m.
Webinar Topics
Navigating transitional kindergarten (TK) credentialing requirements
New requirements for TK programs
Operational impacts and considerations
Budgeting for TK expansion
Temporary and ongoing fiscal resources for TK
Preparing for staffing implications and recruitment strategies
Collective bargaining implications
School facility impacts and funding opportunities
Location Details
DETAILS FOR THIS LOCATION
SSC Clients: $195.00 per attendee
Non-clients: $390.00 per attendee

Program Begins: 9:00 AM
Program Ends: 11:00 AM