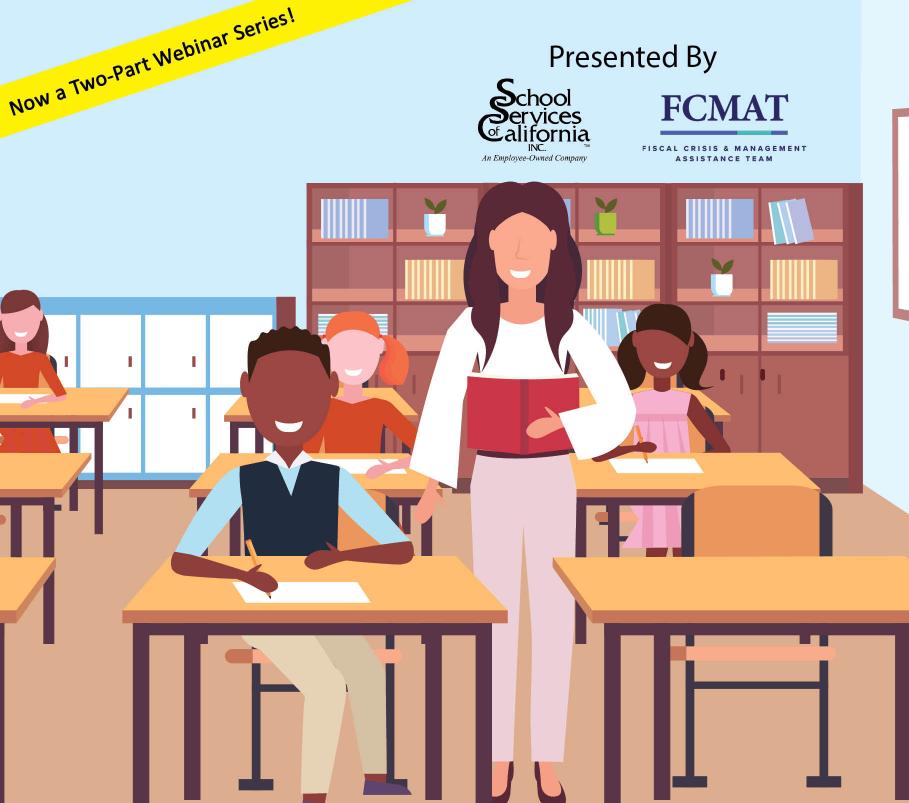 Costs and times
SSC Clients: $235.00 per attendee
Non-clients: $335.00 per attendee

Program Begins: 9:00 AM
Program Ends: 10:30 AM

ABOUT THE WEBINAR
During the Great Recession and recovery through 2017–18, statewide K–12 enrollment was essentially unchanged. Student enrollment trends have varied widely based on geographic location, with some local educational agencies (LEAs) growing in enrollment and others declining. The outlook for the future is uncertain, as the state Department of Finance forecasts declining enrollment statewide over the next ten years.
While some LEAs have recent experience dealing with declining enrollment, many others are just now preparing for the impending challenges that are on the horizon. In addition to the fiscal impacts of having fewer students, the operational demands remain high, which necessitates doing more with fewer resources. The purpose of this webinar is to identify the many ways that declining student enrollment impacts LEA operations and to provide strategies for addressing these challenges, along with resources for making management decisions.

With many decades of experience in school agency finance, human resources, and governance, top experts from the Fiscal Crisis and Management Assistance Team (FCMAT) and School Services of California Inc. (SSC) have teamed up to provide this must-attend webinar. This webinar is for LEAs of all types and sizes and will provide attendees with the tools to analyze the data to forecast agency needs, prepare the LEA to strategically respond to organizational change, and develop a plan to respond to challenges while continuing to provide quality services and programs for students.

Part I: Evaluating the Impacts of Declining Enrollment 
August 20, 2020, 9:00 a.m. – 10:30 a.m. 
•    Defining the Problem
•    Financial aspects of growth versus decline
•    Impact on the Local Control Funding Formula and other revenue
     sources
•    Impact on facilities, educational programs, and support services
•    Enrollment projections analysis and best practices
•    Staffing strategies for responding to fluctuations in enrollment
Part II: Developing a Plan and Preparing to Respond
August 25, 2020, 9:00 a.m. – 10:30 a.m. 
•    Collective bargaining implications and strategies
•    The role of the board
•    Inclusive practices to engage stakeholders
•    Gathering input to include all voices in an LEA's response plan
•    Developing a strategic communication plan
•    Aligning staffing with funding and desired service levels
•    Recommended strategies for cost reductions
•    Implementing a multiyear plan to address change
Fee Includes Both Webinars
WHO  SHOULD  ATTTEND:

This webinar is designed to help LEAs address structural issues due to declining enrollment and to align operations to meet the strategic plan of the organization. Structural change requires commitment, knowledge, and buy-in from all members of an LEA's Cabinet as well as support staff directly involved with the implementation of organizational change.
Location Details
DETAILS FOR THIS LOCATION
SSC Clients: $235.00 per attendee
Non-clients: $335.00 per attendee

Program Begins: 9:00 AM
Program Ends: 10:30 AM